A beautiful smile can make a lasting impression, radiating confidence and charm. In today's image-conscious society, many Australians are turning to cosmetic dentistry to enhance their smiles. Among the various treatments available, dental veneers have gained significant popularity for their ability to transform smiles and create stunning results. Let's delve into the art of smile design and explore how Australian dentists utilise dental veneers to achieve remarkable smile makeovers.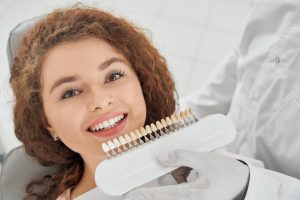 Dental veneers are thin shells that are fabricated specifically for the patient and made of ceramic or porcelain. They are designed to enhance the appearance of teeth by addressing a range of cosmetic concerns, such as discoloration, misalignment, chips, cracks, and gaps. These versatile cosmetic restorations can deliver exceptional results by providing a natural-looking, aesthetically pleasing smile.
One of the primary reasons dental veneers have become a go-to solution for smile makeovers is their ability to address multiple aesthetic issues simultaneously. Australian dentists who specialise in smile design carefully assess each patient's unique facial features, tooth color, shape, and symmetry to create a customised treatment plan. They take into consideration the patient's desired outcome, ensuring that the veneers complement the individual's overall facial aesthetics, resulting in a stunning smile makeover.
To receive dental veneers, the first step is to schedule an initial consultation with a qualified dentist. During this appointment, the dentist will conduct a comprehensive examination, including dental impressions, X-rays, and photographs. These diagnostic tools enable the dentist to visualise the patient's current smile and discuss the desired improvements. The dentist will also provide expert guidance, explaining the various options available, such as the choice between traditional porcelain veneers and more advanced options like minimal-prep or no-prep veneers.
The dentist will prepare the teeth for veneer insertion after the treatment plan is finalised. It includes scraping away a very thin layer of enamel from the front of the teeth in a gentle manner. This is done to ensure that the veneers fit smoothly and precisely. After the dentist takes precise impressions of your teeth, they will send them to a dental laboratory in Australia. The purpose of this is to have custom veneers fabricated specifically for you. Temporary veneers can be placed to safeguard the prepared teeth while waiting for further progress.
After the final veneers are completed, the patient will come back for the bonding process. The dentist will use dental adhesives to carefully place and bond the veneers to the teeth, ensuring a strong and durable bond. The process involves carefully adjusting and polishing the veneers to achieve a perfect and smooth appearance. Patients are often amazed by the immediate and transformative results of dental procedures, as they experience a significant improvement in their smiles. This enhancement not only boosts their self-confidence but also enhances their overall appearance.
The longevity of dental veneers is influenced by several factors, including oral hygiene practices and regular dental check-ups. With proper care, veneers can last for many years, providing patients with a long-lasting solution for smile enhancement.
If you're considering a smile makeover, dental veneers offer a remarkable solution to achieve stunning results. By consulting with an experienced Australian dentist who specialises in smile design, you can embark on a personalised journey toward a captivating smile. Rediscover the power of your smile through the artistry of dental veneers and embrace the confidence that comes with a beautifully transformed smile.
In summary, dental veneers have revolutionised the field of cosmetic dentistry in Australia, allowing dentists to create stunning smile makeovers. By customising veneers to suit individual facial aesthetics and addressing multiple cosmetic concerns, Australian dentists are able to enhance smiles with exceptional results. Through careful planning, preparation, and bonding, dental veneers offer a long-lasting solution for achieving a beautiful, natural-looking smile that can leave a lasting impression.